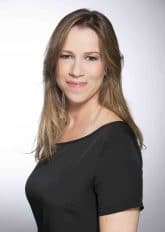 מלי אלקובי
Mali, founder of Dynamix – Work-Life Balance is the pioneer solution provider in Israel who specializes in helping organizations, and lately employees who wish to hear about a system that can help them balance work and private life, in the area of Work-Life Balance. She has developed expertise in several interconnected domains, such as Workforce Generation Gap (Generation-Y and Z) and modern lifestyle challenges (Health, Stress etc). She implemented her original models in various local and international organizations such as HP, eBay, Microsoft, Teva, large Banks in Israel, Government agencies, Israel Defense Forces and more.
Mali's work with organizations makes use of practical tools and models touching upon Motivation, Effectiveness, Personal Development, Nutrition and Health.
Mali is regularly invited to many TV shows, News bulletins, Morning Shows and special reports. She was interviewed by major daily and financial newspapers in Israel and published a number of wide range surveys that influenced public opinion. She lectures at Israel's largest HR annual convention and, for a number of years now, has been leading an annual professional Work- Life Balance Conference with hundreds of HR Managers and other professional executives participating.
Mali has a B.A. in Business Administration with expertise in organizational psychology and human resources from the Macquarie University in Sydney, Australia. She is a guest lecturer at various academic centers and universities and a member of several non-profit organizations that promote Work- Life Balance in Israel and was invited to speak at the Israeli Parliament (Knesset) on a number of occasions.
As the digital age continues to evolve and life being ever more demanding, she is committed to making a change and develop practical tools and practices that will help people to be successful in both their work and personal lives. Therefore, Mali is publishing a book : Heroes and Hormones to be available in English (and Hebrew) in early 2016.