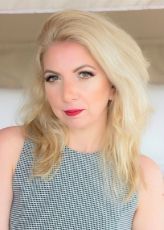 מירב איינשטיין
As her relative's famous saying goes, Mitzi Einstein is a living example that imagination is more important than knowledge.
At the age of 41, after having faced death, she realized that she wasn't living the life that she wanted; her MBA, her executive position, and her marriage were all taking her in the wrong direction. As if someone had heard her silent scream, her life began to completely fall apart; she resigned her job, found out she had cancer, fought a heroic battle and won. Divorced with three little kids, her life seemed to be in chaotic mess, wrapped in fears and looming uncertainty. Then, of all times, she decided to start over again, and within that darkness, she found within her a small flame that led her towards a greater light – her writing.
Ever since her recovery, Mitzi has been dedicating her life to spreading kindness and happiness everywhere she goes. She mentors, advises and helps people overcome crises and struggles in their lives.
Her first best-selling duet "Crime of My Love" was published last year. During this period, she was writing the "Jack and Rosie" series, which is based on personal events and is meant to inspire others.
Mitzi defines herself as a reborn woman; a single mother of three children, surrounded by her family and friends, a full-time writer, and in love with her own private Jack.