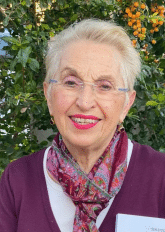 לילית נתיבאור
Lilit was born in Bulgaria in 1938. At the age of five she experienced the terror of World War II, when she was forced to hide with her family. She came to Israel in 1948 with her family and spent her youth on a Kibbutz, where she met the love of her life. Together, they built a family in the city, with two children, grandchildren and great-grandchildren.
Early in her youth, Lilit discovered a creative talent within her. She began to work at a big fashion factory and later went on to establish her own fashion company: Lilit's Creations. Lilit says that "creativity flows through her veins and fills her soul".
At age 53, she was diagnosed with cancer and she realized that life was ordering her to change her course. She embarked on a new journey to study naturopathy and spirituality, in which she found a new passion.
The physical scar left in the place of her breast and a deep emotional scar led her on a journey of thousands of kilometers across the country to meet with women and men of different ethnicities and religions who shared her feelings. These people were happy to share their own experiences and emotions with someone who understands them, and their meetings with Lilit were ones of tearful camaraderie.
Today, Lilit shares the inspiring stories of the battle with cancer that left a mark on the 32 interviewees in her book, and will leave a mark on her readers, too.
This book can be found in every health institution in Israel, as well as in bookstores, municipal and medical libraries, and hospitals all over the country. It is available to doctors, students, nursing staff, patients, and more.