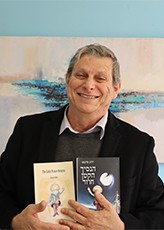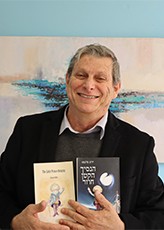 יורם סלבסט
Yoram Selbst born in 1956, was the first child born in Savyon, then a new experiment in suburban living, putting down roots a few kilometers from Tel Aviv. It had taken its first steps only a couple of years before his birth and in his childhood years it was still sparsely populated. His parents were only the tenth couple to make their home there.
In the daytime children roamed its wide open spaces freely and without supervision, pedaling their bicycles as they explored the world around them.
When darkness fell the skies were filled with stars and only the howls of jackals broke the silence of the night.
It was an ideal place in which to grow up. Half a century later, to the pleasure and delight of many of the first settlers, Yoram celebrated those halcyon days in his Tales of Savyon,
Family circumstances, which led to some years in Eilat and Jerusalem led Yoram to expand his horizons and learn to know and appreciate the richness and diversity of the population of Israel in the formative years of the new state. This was a process which continued as he spent his high school years at a comprehensive school in Yehud, a town neighbouring Savyon, renowned for its headmaster and his efforts to bring integration and mutual understanding to a very variegated student body.
After completing his army service in the Armoured Corps, the author went on to study for a first degree in Philosophy and Political Science at the Hebrew University, to be followed by a second degree in Political Science, crowned by a thesis on the transition from Positivism to Deconstructionism in the twentieth century.
During his time at University, Yoram met and married Dafna, his wife to this very day. It was a serendipitous choice which enriched his life and deepened his understanding of the human condition as she explored the human psyche as a psychoanalyst of the school of Jacques Lacan.
During this period he also found time to publish his first book, The Wisdom of Nasser al Din.
After his University years, Yoram joined his father in the real estate business, where they established a fruitful partnership that lasted until his father's death in 2013. At the same time he did not neglect his literary pursuits.
He completed a Master's Degree in Creative Writing in the Department of Literature at the Ben Gurion University. He ran a popular series of Creative Writing Workshops for both poetry and prose. He wrote a continuing stream of articles, book reviews and poems, that saw publication in a variety of literary journals. He wrote three children's books. He published two books of poetry. He won the Annual Poetry Prize of AKUM (English translation) for the year 2012. He published two collections of poetry. His last book was The Little Prince Returns.
All the above were written and published in Hebrew. The Little Prince Returns is the first of the author's works to be published in English. Hopefully it will be followed by many more as the author's bag is full to overflowing.