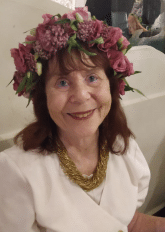 דר' אורה עשהאל
Dr. Ora Nechama silverstein Asahel, known by her pen name Ora Asahel, has been writing since she was young. She has published poetry books, short stories, academic research, the diary of her youth, and her family saga. Ora is married to Ami silverstein and they have 4 children and 11 grandchildren. In addition to her roles as a wife, mother, and grandma, Ora has built a thriving career as an educator and international researcher and has several degrees and certificates in science and communication to her name. Her research focuses primarily on literacy, visual thinking, and the metaphor. She has contributed significantly to the field of science education in Israel and assisted the development of education for children of immigrants. She headed the science programs on educational television and has contributed to education and literacy in Europe and the US. She established the International Visual Literacy Association's international committee and was a member of the editorial board of the Journal of Visual Literacy (J.V.L.). She is an active member of the Hebrew Writers' Association and is also an advocate of women's rights and established the Israeli Creative Women Association. In Herzliya, where she lives, she established the Hebrew Writers branch, and also standing as the head of it.
Ora was raised an orphan. At the age of nine, following several difficult experiences, her grandfather took her into the Pohatchevsky family in Rishon LeZion. She was raised by her extended family – the Hassidic family of her father in Safed, the family of her mother's grandfather Shmuel Wilson, known as a founder of Tel Aviv, and the Pohatchevsky and Feinstein families, founders of the city of Rishon LeZion.
The families she grew up with were all big families with roots embedded deeply in the state of Israel since 1777.  As a descendent of many acclaimed rabbis, pioneers, and authors with important legacies, Ora also deals with preserving and publishing her family's influential manuscripts.