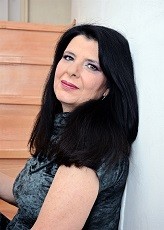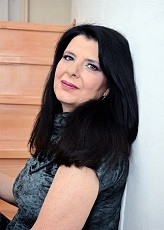 איריס טרבוק
Iris Gattegno Tarbuk has the gift of seeing and communicating with energies and beings in the otherworld an "reading" persons and their souls. She will say she is a soul reader, she can see souls and reads people like books.
In Israel, where she was born, she graduated on the Israeli College for Alternative Medicine and started working especially in the field of counseling people with emotional and psychological problem, using also the Bach flower therapy. During the past thirty years of working on herself, she has further developed her natural talent and today she can recommend people which course to take in order to put in motion their own energy with which they will overcome difficulties and remove blockages.
She has been living in Zagreb since 1995 and has led several workshops titled "Developing intuition" where she taught how to develop attention for the invisible world around us. She has recently developed specific channeled "Soul Mates" workshops attended by those who seek true love, but don't succeed in finding their soul mate or their spiritual partner.
She achieved significant results in that field. Attendees of these workshops of guided meditation become aware why they have failed in finding love and learn how to change that. This workshop has gradually become international, with participants from other countries in the region.
Iris was brought by love from Israel to Croatia. She now lives in Zagreb with her husband Branimir, daughter Coral and son Darel, who, she says, taught her what true love is because he sees other people with his heart, sees the soul and not the physical appearance in them.
As an eleven-year-old girl, Iris wrote her wish list. She put helping people to the first place on this list, and she has already realized it. Her second wish was to write a book about how she viewed the world. "Soul Mates: How to Find and Keep True Love" is her first book. It contains only a small part of her spiritual insights she daily channels, but it certainly is the beginning of her childhood wish come true.