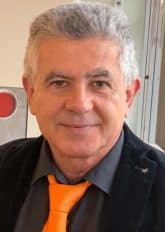 Yasha Hain
Yasha (Yakov) Hain was born in Riga, the capital of Latvia, to an educated Jewish family. After graduating with a degree in electric engineering, he emigrated to Israel with his parents in 1979.
Hain worked as an electric engineering executive and represented Israel on international committees in the field of energy and electric systems development. Since 2016, Hain published four poetry and prose collections in Russian and won the Franz Kafka award during RusCon 2019 convention "for his substantial contribution to Russian literature."
His works were well-received in Russia where they were published in respected literary journals.