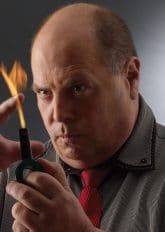 Yarin Kimor
Yarin Kimor is the number one public speaker in Israel for systematic creative thinking development. He has given workshops to 3000 companies and organizations, including Bloomberg, Microsoft, IBM, Intel, and various educational, medical, legal, and military institutions.
His book, The Magic of Creative Thinking, is a bestseller in Israel. He has also directed and produced a 19-episode TV series about handling the impossible, which was awarded an Israeli prize for TV documentaries.
Yarin is an inquisitive man, and his vast field of knowledge has become his specialty.
His professional endeavors include TV investigative reporter, director of TV and film documentaries, senior journalist, consultant, professional magician, lecturer, and author.
Yarin believes in experiential, provocative, challenging, and captivating learning. The books he has written, films he has directed, and games he has developed combine serious value with entertainment, a sharp wit, humor, and fun.
Yarin has three children and three grandchildren but is widely considered by his family as the youngest in spirit.