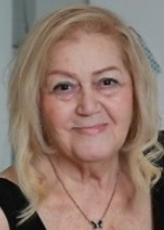 Yaffa Feigin-Reich
Yaffa Feigin-Reich was born in Haifa, Israel in 1936. She worked for French and Israeli institutions in France and as a journalist for "Combat", "Le Monde", and "L'arche" magazines. She returned to Israel in 1967 as a correspondent for L'aurore Daily, and met her husband, Grischa, while interviewing him in 1971. The two were married for 45 years before Grischa passed away in 2016 at the ripe age of 89.
Feigin has a degree from Bar Ilan University in Political Sciences, and has worked as a translator and ghost writer, among other things.
Feigin published a children's book in 1980, "Pili Gili", which was later adapted for radio. Then, in 1996, she published the detective book "They Played with Electric Trains" which is set in the 1960s in hedonistic Paris and received enthusiastic responses, including praise from former Israeli President Shimon Peres.
It's Not Too Late for Love is her third book.