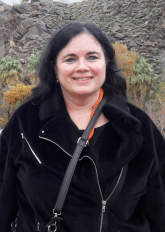 Yael Shuv
Yael Shuv's greatest love is movies (and Broadway musicals). When she was a little girl, her mother told her about an old Hollywood tale named "Lili" and she was devastated when she missed the only screening of the film in her town. This event, which taught her something about frustrated passions, might have been the deep-rooted reason she chose to study film at the universities of Tel Aviv and then New York – her favorite city in the world.
Since then, she has been teaching cinema studies at various academic institutions, writing about movies as a film critic for Time Out Tel Aviv, and attending film festivals around the world as a jury member.
Her other great love as a girl was horses, though she mostly read about them in books (she was an avid reader) and watched them in movies, fantasizing about actually riding one when she was older.
All these loves came together in The Enchanted Carousel, Yael's second book for middle grade. Her first book, The Ice Cream Princess, which became a bestseller in her homeland Israel, saw the heroine swimming with whales, which is another fantasy she someday hopes to fulfill.