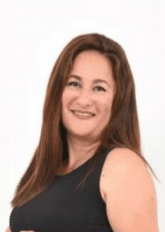 Vered Cohen Wisotzki
Vered Cohen Wisotzki is an Israeli author who transformed her personal grief into a best seller story. Forced Silence was written after experiencing a great personal tragedy – losing her unborn son in a devastating car accident.
While pregnant with her 3rd daughter, she was doing everything she can to protect her new baby, however, during that time the disengagement of Israel from the settlements in the Gaza Strip occurred, which did not allow her to ignore both challenges – carrying out her difficult yet blessed pregnancy and overcoming the heart-wrenching sights and sounds of the settlers torn away from their homes. With great sensitivity, Vered portrays the story of a mother trying her best not to lose her daughter while others are trying not to lose their homes. Today Vered is a proud mother of 3 daughters, is married, has 2 dogs and continues to do her favorite things- teach English to High School students and write, both in Hebrew and in English.