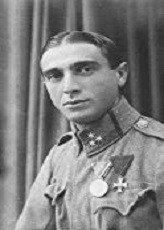 Teofil Tobias Reiss
Teofil Tobias (Tuvia) Reiss was born in 1889 in Lemberg (today Lubov, Ukraine), which was then part of the Austrian-Hungarian monarchy. He was one of Hanna and Meir Reiss's 16 children.
Teofil Reiss moved to Vienna in his youth. He managed to finish some courses at the trade school before joining the army. He served a total of nine years, until the end of the First World War. Teofil Reiss was a great Austro-Hungarian patriot, a professional soldier, a ladies' man, and a proud Jew.
On January 1, 1915, after several years of service as a gunner in the Emperor's Army, he began to write a diary, and continued the diary until one month before the end of World War I. The diary was important enough to him that he made a copy of it in the 1920's.
Teofil married Pepi Kamil in 1917. After the war, they lived in Vienna and had three children: Kurt, Alexander (who died as a baby of pneumonia), and Hedi.
Years later, in the spring of 1938, Hitler came to Vienna. With money, escape was possible, but the Reiss family was struggling financially. Nevertheless, they managed to send their children through an illegal transport to Palestine. Just before Teofil and Pepi were to leave Vienna, Teofil was tricked into joining a "trip" to Poland that was, in reality, a planned massacre by the Nazis. Teofil managed to escape, and ended up in Siberia, then Uzbekistan, unable to reach his family in Palestine. He died alone from typhus, and was buried in a mass grave in 1942.