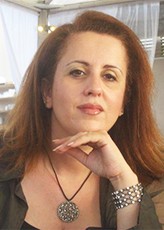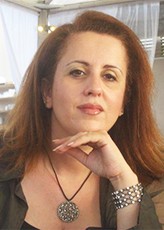 Tamara Avner
Tamara Avner lives in a quiet town with her three children and a dog. Between handling domestic chores she writes poetry, prose and is an English and Hebrew literary translator and editor. Little does anybody know that for over twenty years she served as a lieutenant colonel in the Israeli Military Advocate General Office and in the Israeli Ministry of Defense, dealing with claims for compensation for damages caused by the Israeli Defense Forces throughout the long and bitter armed conflict between Israel and the Palestinians.
During her military service she found peace of mind in writing poetry – an adolescent craving she had given up for many years – and in 2007 her Hebrew book of poetry, Grasping Water, was published by HaKibbutz Ha-Meuchad and awarded a grant from the Yehoshua Rabinowitz Foundation for the Arts, Tel Aviv. Her novel "Lies from within the Attic" in Hebrew was published by Matar in 2013 and was received warmly by literary reviewers. She was awarded the short story prize by the newspaper "Ha'Aretz" in 2009. Tamara translated into Hebrew Jodi Picoult's bestseller "House Rules", the learned book "Inside the Box" by Drew Boyd and Jacob Goldenberg and the best selling novel "The Husbands Secret" by Australian author Liane Moriarty, all published by Kinneret Zmora Bitan.
In 2011, her novel "Disengagements – Final Call for Happiness" was awarded the prestigious Am Ha-Sefer Translation Grant of the Department for Israeli Education and Culture and the Yehoshua Rabinowitz Foundation of Arts, Tel Aviv.
Tamara has a Bachelor degree in law (LL.B) from The Hebrew University of Jerusalem and a Master degree in law (LL.M) from Bar Ilan University. She is enrolled now in graduate studies in literature and intends to focus on women and gender representation in Israeli literature.