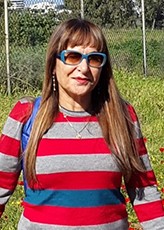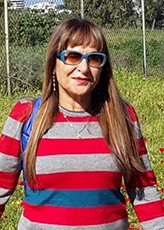 Sisi Meir
Sisi Meir is an Israeli author and poet who lives in Ramat-Gan, Israel. She has a B.A. in Cinema and Hebrew Language and in her books, she often touches on her personal biography which includes being the daughter of immigrant parents who came to Israel from Iraq along with other immigrants from Europe, Asia and Africa during the 1960's.
Her writing expresses the pain and difficulties her family members went through as they experience terrible poverty and scarcity in Israel as well as her own pain of growing up in a nonfunctional, violent family.
Sisi writes books for children, young adults and adults as well as poems and screenplays.
Poems from her children's book: "Jonny Melekh Hagan", were published in the Israeli newspaper, Yedioth Aharonot, as well as in other literary journals. Poems from her adult books were published in various literary journals and on the Internet.
This is her fifth book.