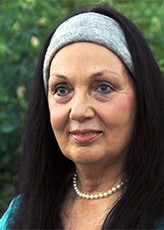 Shoshana Zimmerman
Dr. Shoshana Zimmerman is a University lecturer, who teaches Literature, Creativity, and New Age Theories. She is a Spiritual Teacher and a Spiritual Counselor who works with groups, individuals and families.
Nearly twenty years ago, Dr. Zimmerman experienced an astounding experience of enlightenment that led her to teach spiritual awareness through channeling, as well as mentoring people in diverse aspects of personal challenges.
Ninveh was channeled and written by Dr. Zimmerman during four weeks of water-fasting and in it are the major premises of her current spiritual work.