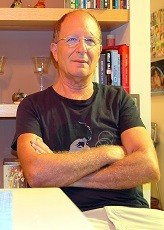 Shmuel David
Shmuel David, born in Israel in 1946, holds a master's degree in natural sciences from the Hebrew University in Jerusalem. His main occupation is as an expert computer software developer, providing services to major companies in Israel and abroad. Writing has always been second nature to him, and over the years he has written many stories.
His first published work was The Immediate Suspect in 2010, a collection of short stories from different periods of his life. His second book, the historical novel Two Princes and a Queen, was first published in Hebrew in 2015. Well-researched and documented, the story is based on the true, heart-rending memoirs of his father's horrendous voyage from war-torn Yugoslavia to pre-State Israel.
In an attempt to escape the Nazi advance through Europe, a tentative escape route was arranged for hundreds of refugees on three river-boats on the Danube. The botched voyage took a year and four months, at the end of which only a handful – including the youngster who was Shmuel's father – made it to Israel. The rest, including the youngster's beloved, perished. This untold story continued to haunt his father to his dying day, and he urged his son to make it known.
Shmuel David resides and writes in Tel Aviv. He is married and the father of three.