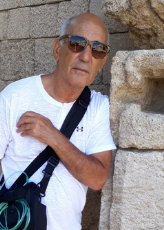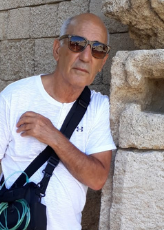 Shlomo Bahat
Shlomo was born in 1941, in the city of Haifa, Israel, on the coast of the Mediterranean Sea.
In his childhood, he went through the regular path of learning: elementary and high school, and when he was mature enough to decide on a profession for the future, Shlomo chose teaching.
He graduated from the Teachers' Seminar and worked in various schools as a teacher until he was appointed principal.
His love of music, and mainly liturgical music (Bach, Handel) led him to study at the university, where he chose the closest subject he could find – History of Art.
His field of specialization was Iconography and thus he was able to enrich his knowledge about Christianity: its beginnings, development and history.
His research on Christianity spread over several decades and included reading the New and the Old Testaments thoroughly and repeatedly, while placing an emphasis on the relation between them.