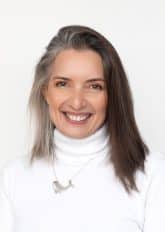 Sharona Hadar Houri
Sharona Hadar Houri is an internationally renowned life coach, facilitator, and experienced instructor in the art of Feng Shui and Chinese Astrology.
She developed the successful training course "The Five Keys to Hopeful life & living with the Language of Open Questions – How to Master Your Reality", and the program "How to Be Your Own Voice & to Embrace Yourself to Be Greater", both based on her own method of self-development. Houri lectures about The Open Question Language to companies, organizations, and institutions in Israel and around the world.
In addition, she owns a thriving business centered around healthy architecture and Feng Shui that specializes in the designing of homes, apartment complexes, businesses, and public structures.
Houri lives in Maccabim in Israel with her partner and five daughters. Infinite Choice Questions is her first book.