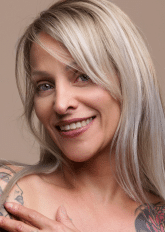 Sharon Yitzhaki
Sharon Yitzhaki was born in 1973 in Jerusalem to an ordinary family. When she was 16 she moved to Tel Aviv and joined a street gang, living the then-developing Punk culture. At the time, she lived on the street and dabbled in whatever came her way. Several years later, she moved to Amsterdam where she met Ronny, with whom she immediately fell in love. When he offered that they travel together to South America, she gladly agreed.
But she was detained as soon as she landed in Bolivia with 10 kilos of cocaine in her suitcase, while Ronny simply vanished as though swallowed by the ground.
Sharon was jailed in the notorious women's prison, Mira Flores, while her trial was held. After four years in prison, she managed to escape and returned to Israel, where she has been ever since.
She decided to write a book chronicling the unforgettable experience of the years she spent in jail in Bolivia, and her book was first published in Hebrew in 2006 and quickly became a bestseller. Today, she is studying writing and screenwriting at Minshar School of Arts, and working on her second novel.
Sharon also designs crocheted swimsuits in her self-owned studio. She learned the art of crocheting from the Cholas, her Native American cellmates from Mira Flores.