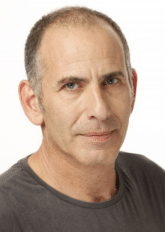 Shai Avivi
Shai Avivi is an award-winning film and television actor in Israel.
He met his wife, Michal, on set in 1998 and they have been together ever since. Their path of marriage included the fireworks of the beginning, the big bang that they faced when their children were born, and the long cold winter when their relationship entered into a deep freeze.
So, they took all of the life experience from their marriage and, as artists, ventured towards the place where they knew they could do something positive: the stage. Michal and Shai created and produced a very successful show that has been running for over eight years and has touched the lives of hundreds of thousands of people in Israel.
Shai has two children and a dog. He lives in the countryside in Israel and loves to drink coffee by gallons, watching the same films again and again, mad about the Beatles but most of all love to make people laugh.
Happily Ever After is his first book and is based on his and his wife's successful show.