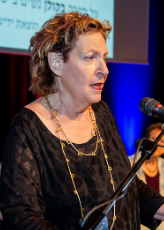 Ruth Spira
Born in Finland, a native Swedish speaker and living in Israel from the age of 13, Ruth Spira has gained a prominent status as translator of Scandinavian literature into Hebrew.
For her contribution, she was decorated in 2016 with the Royal Swedish Order of the Polar Star.
She worked for 15 years as Cultural Reporter for the daily newspaper, Ma'ariv and served for two years as Cultural Attaché at the Israel Embassy in Stockholm.
She is the author of two books, The Same Moon, a memoir about her incredible journey to Vietnam and back in 1997 in order to adopt a baby girl, and Breaking the Silence, a book of interviews with Israeli women living under the shadow of loss and war. The latter was awarded the Yitzhak Sade prize in 2019.
Ruth Spira was widowed at the age of 24 when her husband was killed in the Yom Kippur War. She has a daughter.