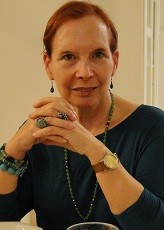 Ruth Netzer
Ruth Netzer was born on a religious kibbutz to parents who originally came from Germany in the middle of the 20th century. She left the kibbutz when she was a teenager following her parents separation. She lived most of her life in the center of Israel. She has two children and three grandchildren who live close by.
Netzer has a master's degree in literature and clinical psychology. She is a senior Jungian psychoanalyst in Israel, a clinical psychologist, and a senior counselor as well as a researcher of literature and film and a sought-after lecturer in the fields of psychology and cinema. In addition to all of this, she runs workshops on learning to use tarot cards for individual counseling and therapy, using a unique method that she developed.
Netzer is also an artist who has displayed her works in two painting exhibitions and two photography exhibitions. She has written dozens of essays that were published in magazines in the fields of psychotherapy, literature, and culture, and also three chapters in different reference books. She has published seven reference books on the journey of the soul, literature, poetry, art, tarot cards, and Judaism and mysticism as well as ten books of poetry, for which she was awarded five literary awards. Her current autobiographical book is, for her, the crowning glory of her literary work.