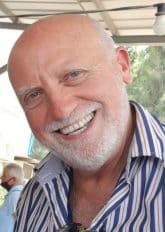 Ron Getreuer–Gilo
Ron Getreuer-Gilo was born in Israel to a Nazi victim family and strongly believes in an independent Jewish state as an answer to Antisemitism.
He is a graduate of the University of Maryland and the Hebrew University in Jerusalem and retired from the IDF as a Lt. Colonel, serving also as the chief editor of the IDF written magazine.
A licensed and sought-after tour guide, his family legacy is the "pillar of fire" directing his routs along the modern state of Israel.