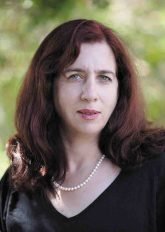 Orna Landau
Orna Landau is an editor and novelist. Her first novel – "Just Another Round of Love", written in Hebrew and published in Israel, went on to become a best-seller with over 20,000 copies sold within three months. In the following years, she has written another best-selling novel and also a YA novel, both of which received national prizes and critical acclaim. Her children's book, "Leopardpox" was published in English by Houghton Mifflin (White Raven 2013, Kirkus Best Children Book).
In 2016 she wrote "The Bet" which went on to become a best seller both in Israel and Germany. Just recently she has completed another novel, "Sail on Silver Girl".
Orna Landau heads the Translated Fiction department at Kinneret-Zmora-Dvir, Israel's largest publishing house. Before that, she was a journalist and a television critic. She holds an MA in Comparative Literature and teaches an advanced creative writing course.
Orna has lived in the US, Israel and Canada. She currently lives in Tel Aviv with her husband, Shmuel Rosner, an Op-Ed contributor for the New York Times, four children, and two dogs.