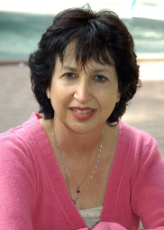 Orit Raz
Orit Raz was born in Israel in 1953. She began her writing career writing children's programs for Israeli television, where she also created children's stories that became best sellers in Israel. She has published about 55 books for children, youth, and adults. One of her children's books was translated to Portuguese and was published in Brazil, and another became a very successful theater play in Israel.
As she grew up without computers or television, Orit loved to read everything she could. She envied the skills of writers and poets and tried to imitate them. She began to publish stories and poems in children's magazines. She wrote for her nephews and later for her own children. Then she began to publish children's books.
The age of her readers increased together with the ages of her children. Orit began working for the ministry of education, lecturing to pupils and then also to adults. Although she loves the encounter with the audience, writing is the most exciting experience for her – building the characters and situations. She identifies with the characters, imagining how she would feel in their place. In fact, as long as she is writing, she and the character become one. When the book ends, she enters a bleak process of separation which ends only when she starts her next book.