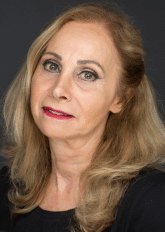 Orit Atias
Orit Atias holds a master's degree in Education from Tel Aviv university and a master's degree in gender studies from Bar Ilan University.
She lectures in institutions and organizations about the development and empowerment of professional teams, leads seminars on personal and professional development and female empowerment, and is also a personal life coach.
She was featured in the book "One Hundred Top Lecturers in Israel for 2014-2015", which was edited by Prof. Noah Halperin and published by Barczewski. The Hebrew version of "The Cinderella Effect", was published by AQ Atelier.