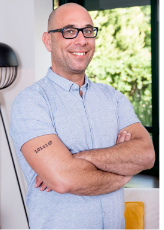 Omri Gilat
For over 20 years Omri has been a reluctant player in the Hi-Tech industry.
Despite his complete contempt and lack of respect towards the sector as a whole, he has somehow managed to hold on to several leading positions in numerous Hi-Tech companies and start-ups, both in Israel and in the US.
Omri currently lives in Israel with his beautiful wife, three teenagers who want almost nothing to do with him, and a psychopath dog.