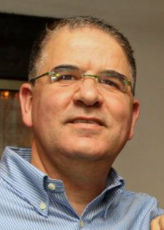 Nissan Louie
Nissan Louie never imagined that his book would be #1 on Amazon, just two hours after its launch. Nor did he envision a major TV company would want to make a series, based on the book, only one month later. Nissan Louie considers all of this a miracle.
Ever since Nissan Louie can remember, he has had a vivid imagination. He believed in the power of angels and loved fantasy movies. Nissan would watch, and rewatch, movies several times. This is how he got his creative ideas.
Nissan Louie spent 15 years writing the book 'Joe & Anna Byrd', which would bring joy and happiness to children around the world. It was only at the age of 38 that Nissan began to dream about the book. He received such incredible feedback from bookworms, that it fueled him to write even to the wee hours of the morning.
Nissan spent many nights, long after his wife and his growing family were fast asleep, creating the characters in the book. This, however, was not such an easy task… Even as a full-time insurance sales manager, Nissan decided to throw himself into the literary arena. He enrolled in various workshops and even hired a professional editor.
Nissan experienced personal tragedy a few years ago, with the passing of his wife and seriously considered abandoning the project. However, his oldest daughter, who was the catalyst for 'Joe & Anna Byrd', would not let him quit. She, along with his other four children, family and friends encouraged him to complete the book.
Nissan recently finished Joe & Anna Byrd, and the project took on a whole new meaning. He views life, and everything in it, as a huge miracle. Nissan hopes to bring all the bookworms to center stage, in every aspect of society, young and old alike, and make them Knights of the Disappearing Book.