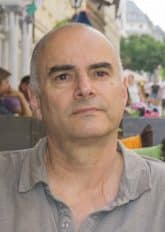 Prof. Natti Ronel
Professor Natti Ronel (born 1958) is an experienced clinical criminologist, specializing in the treatment of addictions, violence and victimization at the Bar-Ilan University, who in 2013-2016 also served as Head of the Criminology Department.
Ronel is the theorist and founder of Positive Criminology and Positive Victimology – offering a novel perspective for survivors of violence or crime, and of "The Graceway" therapy – a self-change program assisting in liberating people from external object dependence as well as from the habits and processes of inner compulsion.
Ronel trains professionals on various aspects of "The Graceway" therapy and the applications of the Twelve Step program, while putting an emphasis on the spiritual change and its adaptation to normal everyday life. He has published dozens of articles in scientific journals as well as a number of books, and is a regular participant in local and international conferences.