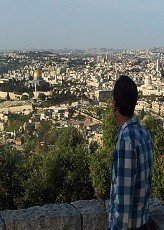 Dr. Nathan Erez
Nathan Erez is a scholar of Jerusalem who is interested in many disciplines. He was born and raised in Israel. At the age of twelve, he was sent to Jerusalem to study, and since then he has lived there. He has many degrees (including a doctorate) in mathematics, computers, law, criminology, and humanities, from leading universities worldwide. In addition, he studied nine years in a Yeshiva (Rabbinical College).
He served in the IDF Armored Corps as a Tank Commander.
Erez has been involved for many years in martial arts and has a black belt in several systems.
In recent years, he has worked in a classified service position for the State of Israel.