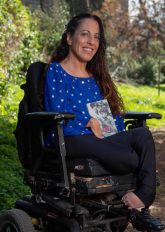 Miraleh Aharoni
Miraleh (Miriam) Aharoni was born in Tel-Aviv in 1974 into a body whose limbs were deformed. She was diagnosed at birth as suffering from arthrogryposis syndrome, a result of low levels of amniotic fluid in utero, and makes her way through the world in a wheelchair, which she controls with her left foot.
After her mother abandoned her, she moved between institutions and foster families. The circumstances of her situation, however, never got the better of her. Miraleh is full of joie de vivre and a sense of gratitude; she was endowed with the most extraordinarily charismatic personality.
Miraleh believes in setting goals and achieving them! She is a person who is prepared to devour whatever life offers her. She married, conceived and is mother to a son.
Miraleh has worked as a parliamentary aid. She is a graphic artist and a video editor. She draws with her mouth and one foot, plays the harmonica and is always looking for the next challenge.