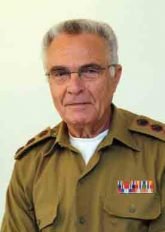 Micky Seiffe
Micky Seiffe is a Colonel in the Israel Defense Forces (IDF) who has served for 56 years in the reserves and participated in no less than eight of the State of Israel's wars. During the Yom Kippur War (October 1973) he was taken prisoner by the Egyptian military. Today he still serves (on reserve duty) as a Colonel, Commander in the Medic Corps of the IDF and consultant to the Ministry of Defense in Israel.
Micky is an independent advisor to pharmaceutical companies and a lecturer at the Hebrew University of Jerusalem. Previously, he worked as Senior Director in the New Drug Research and Development division of a top global Pharmaceutical company for close to thirty-five years. After his retirement, he joined the management team of a startup company.
Micky has a Ph.D. in Pharmaceutical Sciences.
He was born and educated in Israel where he lives with his wife of almost 45 years, has two lovely children (both of whom served as officers in the IDF) and six charming grandchildren.
Micky's greatest loves are his country, his family, classical music and sports (tennis).