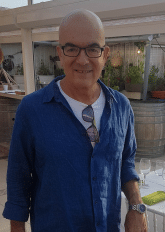 Adv. Michael Rozen
Michael Rozen, or Mickey as his friends call him, is a former pilot in the Israeli Air Force, a lawyer and a history freak. He graduated his MA at Tel Aviv University with honors and is especially fascinated with the world of espionage and its cinematic portrayal. He is also a licensed tour guide, which he does as a hobby in his spare time.
Following a difficult personal and medical crisis, he set out in search of healing and in 2010 stumbled upon a week-long inner engineering spiritual workshop in London led by the Isha Foundation.
Michael dreamed his whole life of writing a novel that would bring together his fields of interest, and the idea for his first book, Off Target, was born during that fateful workshop, when he was asked to write down his biggest dream on a piece of paper and instructed to get to work on it that very same day. And so, the outline of his book was written that week in London, and the novel was finally completed ten years later, thanks to the first COVID-19 lockdown which forced him to take time off work and stay home.