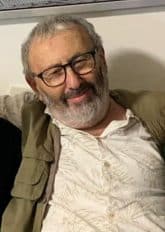 Michael Behagen
Michael Behagen (1952) is a filmmaker, musician, and published author.
Among his most notable creation is the television thriller and mystery series "Late Night Stories". Behagen, whose father was a holocaust survivor, was born in Tel Aviv, and currently lives between Israel and France.
The Partisan's Daughter is his second novel following the thriller novel Lullaby (2002).