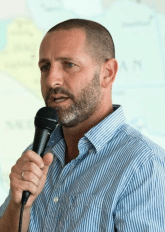 Michael Bauer
Michael Bauer is the author of "Israel Journey: Eight Days in One Of The World's Most Complex Countries", an educator and tour guide.
Bauer specializes in geopolitical tours and has developed seminars and workshops on topics such as: Israeli-Arab relations, Israel's minority populations, Israel's borders and neighbors, Middle East politics and history. As a field educator and tour guide with over 24 years of experience, Michael has led adventure tours around Israel, Jordan, the Sinai Peninsula, and Turkey, as well as educational programs in Poland and Germany.
Michael teaches Middle East History in several Pre-Military institutes and provides briefings, lectures and seminars to groups and international institutions. Michael has had the privilege of guiding and teaching senators and Parliament members from around the world, military intelligence units, celebrities from the entertainment industry, university students, faculty members and presidents of Ivy League universities such as Harvard, Colombia, Johns Hopkins and many more. Michael has also been invited on several speaking tours across North America, including at the Harvard Kennedy School and the Canadian Parliament.
Michael served as a commander in the paratrooper forces as his mandatory military service and has served for many years on reserve duties.
Michael is married and has five children. He lives on Kibbutz Bet Guvrin.