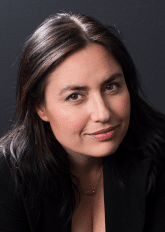 Masha Halevi
Masha Halevi has lived her 48 years of life to the fullest. She was born in Russia, emigrated to Israel and then lived for several years in France and the USA. She studied piano and violin in the Music Academy, guided camel tours in the Israeli desert, and was a member of a rescue squad. Masha completed her PhD in geography at the Hebrew University, researching Christian Catholic churches, and following her 40th birthday, made a drastic change in her life.
After 15 years of monogamous marriage with her husband, they opened their relationship and she made a career change. For the past 6 years she has worked as a couple's counselor and mediator, working mainly with couples who want to introduce more freedom into their relationships (both monogamous and non-monogamous).
She became a public figure in Israel through advocating the need to change the common perception of romantic relationships, sexuality, and the way people usually conduct monogamy. At present, Masha leads a polyamorous way of life. She has two romantic partners – her husband of 22 years and boyfriend of 8 years. She lives with her husband, three kids, three cats, and five hamsters. She believes in personal growth through relationships and that it is entirely possible (and even necessary) to combine freedom and autonomy with deep connection and security whether in monogamy or in non-monogamous relationships.