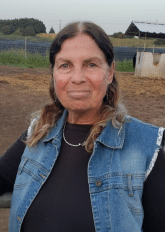 Liora Carmeli
Liora Carmeli is an author, playwright, and translator. She has written 17 books for children and young adults and two novels, which were published by various publishers.
She is married, a mother of four and a grandmother. She was born, raised, and lives to this day in Nordia village, which was founded by her parents.
After completing her military service, Liora studied and was accredited as a radio officer on trade ships and for several years sailed with her husband, a deck officer, to the US, Africa, and the Far East. Later, they started a family and worked together in agriculture – growing flowers and exporting them to Europe.
After the birth of her fourth child, she began writing for children. Since then, writing books and plays has been an inseparable part of her life.
In addition to writing, Liora translates from English to Hebrew and has translated, among other things, the children's book series Goosebumps, many of Nora Roberts' novels, and Hilary Clinton's autobiography, Living History.
Besides writing and translating, Liora also dabbles in the art of mosaics. Just as she connects words and sentences into stories, she connects ceramics, mirror fragments, and beads into beautiful mosaics, some of which she donates as decoration for public facilities in her village. She has also given some of her creations to help decorate the buildings of endangered youth centers.