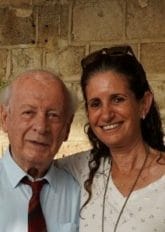 Limor Regev
Dr. Limor Regev specializes in the Isaeli-Arab conflict and territorial retreats in Israel and has held various academic positions over the years. Among these positions, she has acted as the head of an academic unit at the College of Management, a specialist at the Institute for National Security Studies (INSS), and is currently a research fellow at the Leonard Davis Institute for International Relations in the Hebrew University. Regev gives lectures and participates in conferences relevant to her fields across the globe.
Dr. Regev's grandparents left Poland with Zionist youth movements in the 1930s, escaping the fate of their parents, brothers and sisters who were murdered in Treblinka. She has always been intrigued by World War II and the Holocaust, and this interest set her on the course to writing her first book – the life story of Moshe Kessler, who survived Auschwitz and Buchenwald camps to tell his incredible tale.
Moshe Kessler is the father of one of Limor's closest friends. The hours of work and the joint journey the two embarked on while writing his story forged a special bond between them, which remains to this day.