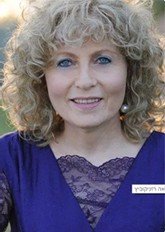 Leah Reznikovich
Leah is a health promoter and a registered nurse, who has been giving private instruction to both healthy and sick people for the past twenty years. Her main areas of expertise are: cardiac patient rehabilitation, Type 2 diabetes, and all the risk factors for cardiovascular diseases.
Leah gained most of her experience through eighteen years of work at Macabi Health Services as a health promoter and a nurse at the Cardiac Institution in Haifa, Israel. In addition, Leah spent five years at a specialized institution for the rehabilitation of people post heart attack. Leah is also licensed as a registered nurse through the state of Massachusetts.
In addition to her work in the field of conventional medicine, Leah has learned several holistic healing methods, including Reiki and Kinesiology. The mind-body connection is intertwined in her work with clients and is featured prominently in her book Thou Shalt Not Diet, which was published in Israel toward the end of 2009. Her practice and writings combine both conventional and holistic medicine, which she believes are powerful approaches for helping people to lead healthier lives.
Leah currently sees clients for individual instruction at her private clinic. In addition, she conducts healthy living workshops.
Leah is married, and mother of five. She lives in Haifa, Israel.
Every health professional who deals with health promotion knows that one of the most difficult challenges of the job is persuading clients to make behavioral changes. This challenge is, in fact, the essence of Leah's work. She has set success in this challenge as her goal and mission. Over the years, Leah has developed a unique instruction method, in terms of the contents and the manner in which they are delivered. Thankfully, most of her clients have, indeed, made behavioral changes following their instruction sessions with Leah.
In her book Thou Shalt Not Diet, Leah has put into writing what she does face-to-face with her clients and has learned from her vast experience. Thou Shalt Not Diet is written as an individual guidance session with each reader.
Following the success of her book, Leah has been invited to become a member of The Israeli Forum for the Prevention of Cardiovascular Diseases. She plays an active role in the educational work that the forum leads in the community in order to reduce the risks of cardiovascular diseases.
In addition, since the publication of her book, Leah has been invited to lecture in a variety of settings such as hospitals, community centers, schools, seminars, homes for the elderly, and more. She has been interviewed several times for various Israeli radio shows, as well as for the Israeli TV's Channel One news.
Leah sees her book as an important mission she has been blessed with. Thankfully, her mission is succeeding. Since the book's publication, Leah has received feedback from hundreds of people across Israel who read the book and felt the need to call her and tell her about the various changes they have made in their lives thanks to her book. Several readers have called Leah simply to say, "Thank you."