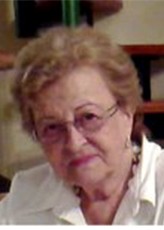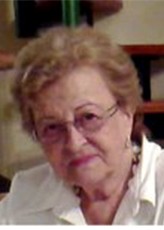 Krystyna Carmi
Krystyna was born in Obertyn, Poland. Her father was a photographer by profession. Initially, she attended a Ukrainian school in Obertyn. Further education was interrupted by the war, when the town was under the management of the Ukrainian and German Nazis and Krystyna, as a 9 year old girl, was exiled with her family and all other Jews from Obertyn to the ghetto in Kolomyja.
The life conditions in which Obertyn Jews had to live are described in the poem Molasa – Ghetto Sweets; she shows in a detailed way, psychological and physical suffering caused by hunger. People die in the ghetto because of hunger and physical exhaustion; their bodies were collected on a platform. These deaths do not escape the attention of a sensitive and suffering girl, who years later will write a poem with the title In Remembrance of Innocently Suffering People of Different Ages and Sexes from Kolomyja Ghetto; a picture of the platform will stay in her memory forever. "The open mouth and eyes of these human corpses have been hunting me all my life…
Then she escaped from the ghetto with her parents. Her sisters were murdered and her parents executed.
After the loss of her entire family she was adopted in 1944 by the family Gaczyński who took care of her further education. In March 1945, when the Ukrainian Bandera increased persecution of Poles, including Kolomyja, Gaczyński family agreed to return to their homes in Brzesko. Krystyna moved to Jordanow home for orphans, called "Our House", where she attended High School, which ends in 1951.
Since 1958 Krystyna lives in Israel. In 1997 she established a small library located in the Polish belonging to the Franciscan church, St. Peter monastery in Jaffa. Her contact with the Polish book memoirs that soothe the longing for the homeland – indeed, as she says has two Homeland – Poland and Israel.
She is married with 2 children and 5 grandchildren.
Her poems were published in local journals in Poland:
"Echo Jordanowa" (Bible Society of Friends of the Earth Jordanów), March – April 1996 years No. 20; Religion poem,
School newspaper, "What's the matter," Pulawy No. 2/98 (6) Charming rows like a dream, Ash Wednesday in the Holy Land and the memories of school days in high school school in Jordanow.
(P. 27 – 32 of that magazine)
"Source" Weekly Catholic Families, Kraków, Bielsko – Biala, Rzeszow, Sosnowiec, No. 30 (239) July 28, 1996, contains a poem Meeting in the Garden.
Polish:
Pochodzi z tzw. Pokucia. Urodziła się w Obertynie woj. Stanisławów, jej ojciec z zawodu był fotografem. Początkowo uczyła się w szkole ukraińskiej w Obertynie (rok I tzw. pidhotowka (klasa przygotowawcza) i rok II, czyli klasa I). Dalszą naukę przerwała wojna, miasteczko znalazło się pod zarządem nazistów ukraińskich i niemieckich,a Krystyna jako 9 letnia dziewczynka znalazła się w getcie Kołomyja. Po utracie całej rodziny została adoptowana w 1944 roku przez rodzinę Gaczyńskich, którzy zadbali o jej dalszą edukację. W marcu 1945 roku, kiedy ukraińscy Banderowcy zwiększyli prześladowania Polaków włącznie z Kołomyją,rodzina Gaczyńskich postanowiła powrócić w rodzinne strony czyli do Brzeska k. Krakowa. Tutaj kończy w 1947 roku szkołę podstawową, a następnie za zgodą Kuratorium [Oświaty] przenosi się do Jordanowa do domu dla sierot , zwanego "Naszym Domem", prowadzonym przez SS. Prezentki. W Jordanowie rozpoczyna naukę w Liceum Ogólnokształcącym, które kończy maturą w 1951 roku. Po wojnie brakowało nauczycieli, więc często zatrudniano maturzystów, którzy pracując jako nauczyciele niewykwalifikowani uczyli w szkołach podstawowych douczając się na specjalnie zorganizowanych kursach przedmiotów pedagogicznych jak: dydaktyka, pedagogika, psychologia i. t. p. Rozpoczyna więc pracę w Krzeczowie na stanowisku nauczycielki niewykwalifikowanej dojeżdżając jednocześnie do Zakopanego na wspomniane kursy. Po wyjeździe do Krakowa (z przyczyn od niej niezależnych) pracuje z dziećmi i młodzieżą jako wychowawczyni w świetlicach Caritasu.
Od 1958 roku mieszka w Izraelu, mimo to jej polszczyzna jest nadal lekka, zwiewna o czym możemy przekonać się czytając prezentowane w niniejszym zbiorku wiersze. Wychowana na poezji Mickiewicza, Słowackiego docenia wartość słowa, jego brzmienie, sens jaki oddaje. Obecnie (od 1997 roku) prowadzi niewielką bibliotekę polską zlokalizowaną na terenie należącego do Ojców Franciszkanów kościoła pw. św. Piotra i klasztoru w Jafie. Jej kontakt z polską książką to wspomnienia, które łagodzą tęsknotę za Ojczyzną – zresztą, jak sama mówi ma dwie Ojczyzny – Polskę i Izrael.
jej wiersze i wspomnienia publikowano w lokalnych pismach:
"Echo Jordanowa" (Pismo Towarzystwa Miłośników Ziemi Jordanowskiej), marzec – kwiecień 1996 rok Nr 20; wiersz Wyznanie,
Gazetce szkolnej "O co chodzi", Puławy Nr 2/98 (6), wiersze Czarowna jak sen, Popielec w Świętej Ziemi oraz wspomnienia z czasów szkolnych w liceum Ogólnokształcącym w Jordanowie
( s. 27 – 32 wspomnianej gazetki),
"Źródło" Tygodnik Rodzin Katolickich, Kraków, Bielsko – Biała, Rzeszów, Sosnowiec , Nr 30 (239) 28 VII 1996, zamieszczono wiersz Spotkanie w Ogrodzie.