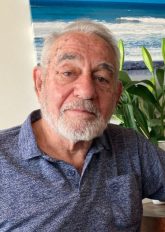 Jair Alcalay
Jair Alcalay was born and raised in Israel. After completing his mandatory military service in the Paratroopers Brigade and acquiring a degree as an engineer and food technologist, he spent most his life establishing food factories in advanced countries around the globe. Through his work, he traveled the world and learned the ways and customs of varied societies.
Upon completion of his autobiography, Jair turned to writing The King's Cartographer, a historical novel depicting life and maritime trade in the time of the great discoveries. As a sailing enthusiast, he has spent many an hour sailing the Mediterranean Sea himself.
Jair's ancestors were of the Jews expelled from Alcalá de Henares in the 15th century, and thus the sea, the Jewish expulsion, and the subject of developing countries have always captured his interest. This fascination and the research that inevitably followed are the backbone of his novel.