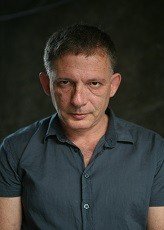 Ilan Sheinfeld
Ilan Sheinfeld (1960) is a Hebrew writer and editor and a proud single father of twins. He graduated for his M.A degree in Hebrew Literature in Tel Aviv University and founded and edited the literary magazine "Shufra" (1984­6). He has published eight collections of poetry, four novels, three plays, two books for writers and five children's books. Three of his plays were staged. He was awarded the Prime Minister's Prize for Literature twice, in 1990 and in 2015. Ilan Sheinfeld was a co­literary editor of Al Hamishmar daily newspaper (1981­1990) and the spokesman for The Cameri Theater of Tel Aviv (1990­1992). Between 1992­2014 he owned and managed a Public Relations firm which was reputed for promoting Israeli culture and non­profit organizations.
llan Sheinfeld is known as a gay activist, and is one of the first Israeli that come out of the closet. Between 1992­1995 he founded and directed, at his residence, the first Hebrew workshop for gay writers. In 1998 he founded the first gay Hebrew publishing house, "Shufra". In 2000 he has founded the gay Cafe and bookstore, "Cafe Theo", which suffered from homophobic attacks by neighbors and was closed in 2002.
Ilan Sheinfeld lost his first mate, the painter Saar Efroni, in 1986, after a severe attack of Periodical Paralysis. He has been married for ten years to his second mate, the world­known photographer Adi Nes. He now lives with his twin boys, whom he bore by the aid of a surrogate mother in India.
Nowadays, Ilan teaches writing in The Open University of Tel Aviv, and spend most of his time in parenting and writing.