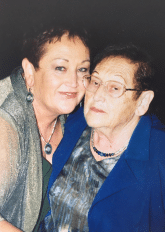 Hassia Knaani
Hasia Knaani was born in Israel in April 1946 to Holocaust survivor parents who were partisans in the forests of Volhynia.
Her parents immigrated to Hadera in November 1945 and were the first people to come to Hadera after the war. People would come from afar every evening to hear their stories.
Hasia was born in Hadera and has lived there to this day. She has two children and seven grandchildren. She holds a degree in History and Biblical Verse from the University of Haifa and is a qualified instructor in the field of organized thoughts and writing, from the Tel Aviv School of Education.
For forty years, Hasia worked in the education system in Hadera, teaching mainly high school students, as well as training teachers in her specialty field.
Since her retirement, she has written stories for children and adults, and she also paints regularly. She spends a great deal of time with her family and loves to travel.