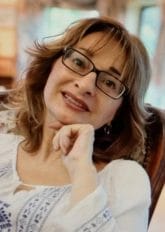 Etty Shahar
Etty Shahar was born and raised in Jerusalem, a city that she loves.
In her youth she studied at the Jerusalem Academy of Music and was also a member of the local orchestra and folk dancing group. Later, she acquired a degree in Social Sciences from Ben Gurion University and then went on to study mediation at the Hebrew University in Jerusalem.
Etty worked for twenty years for the Israeli Police Force and today she mediates as well as volunteering for a non-profit that provides lifesaving humanitarian aid.
To date, Etty has written five children's books and four novels. She is happily married, a mother of three and grandmother of five.