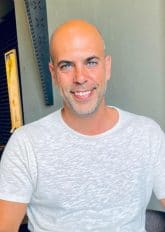 Adv. Eran Ben Amy
Eran Ben-Amy is one of Israel's leading criminal attorneys.
He began his career in the DA's office as a criminal prosecutor and later established a private law firm. In his work as a private lawyer, he revolutionized the legal world by revealing the scientific data behind the use of alchotest machines for testing alcohol intake. His discoveries changed the way the Israeli police force handles DUIs.
After completing his military service in the Special Forces, Eran was recruited to the State Department ambassador's security detail. While serving in this position, he achieved the "Meritorious Honor Award" in recognition of his courage, decisive action, and teamwork in the apprehension of a suicide bomber outside the American embassy in Tel Aviv, where he saved many lives.
His military combat experience provided the base for his debut thriller, Game of Silence.