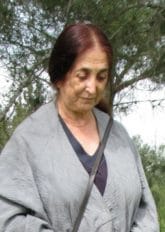 Elia Alexander
Elia Alexander was born in Hadera, Israel. After finishing her Master's in clinical social work at Tel Aviv University (summa cum laude) she started practicing as a psychotherapist in her own private clinic and public hospitals. At the same time, she also studied literature as a PhD candidate at Ben Gurion University. Elia has won several literary prizes, including the Amos Oz award at BGU and the first prize of the Ramat Gan's Library poetry competition with her poem "Isaac's Sacrifice".
Elia made her literary debut with her first collection of short stories called "Other Landscapes" (Steimatzky, 2016). Her second book, "Pasta for Two", was first published in 2020. Her writing investigates the inner world of the heroes and their unique reactions to events they had to encounter such as immigration, grief, and financial difficulties.
She is currently finishing her third dystopian book, "The Good Night Ceremony" and a long novella called "What We Have Inherited".