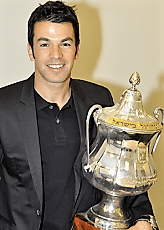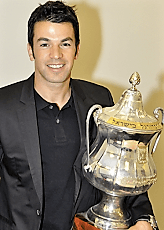 Eitan Azaria
Eitan Azaria is a former professional football player, writer, sought-after lecturer, international mentor to competitive football players, and an expert on realizing the potential of young football players.
At the age of 25, Eitan had already won five consecutive Israeli football titles, including two championships with the Maccabi Haifa F.C. (2004, 2005), the Israel State Cup with Hapoel Ramat Gan F.C. (2003), as well as the National League championship (2006) and the Toto Cup with Maccabi Herzliya F.C. (2007) as team captain. He had also represented Israel's youth teams in over 50 international appearances.
When he was 26, at the height of his career, Eitan was injured when his Achilles tendon brutally tore and he had to retire from football. Against all the odds, while still hospitalized, Eitan developed a method that could help every football player to take advantage of the vast potential they already have in them. Word of Eitan's method began to spread like wildfire among football players. When the success stories of players of all ages were revealed, he realized that he could not keep this knowledge to himself, and so, he decided to write a book to share his method with every competitive football player aspiring to reach the world's greatest football stages.
Despite his young age, Eitan is considered a genius when it comes to boosting performance and realizing the potential of competitive football players. Leading professionals who are familiar with Eitan's research work call him the "Wonder Boy" who realizes the potential of individual football players and of teams. Eitan currently serves as the mental coach for Hapoel Ironi Kiryat Shmona F.C., a relatively young team with a budget of 6.2 million dollars (compared to the Israeli champion, Maccabi Tel Aviv F.C., which has a budget of 33.6 million dollars). During Eitan's first season in this capacity, he helped Hapoel Ironi Kiryat Shmona to win the Israel State Cup and to make it to the European league's playoffs with players of an average age of 25.
The former coach of Chelsea, Mr. Avram Grant, called Eitan's book, The Fearless Football Player, "a must for all football players aspiring to fulfill the potential they have and to reach the top levels of the football world. The tools in this book are exactly those used by successful football players in Europe. It is written in a readable, informal style, turning the rapid learning process into a great experience for the reader.
Rami Gershon, defender for Gent and the Israel national team, says, "This is the best season I've had in my career, both physically and mentally. I now see things differently, and I have matured in the full sense of the world. The person who helped me to reach this point is Eitan Azaria, with the tools he provides in his ingenious book. I do not go onto the field anymore without his book, especially Chapter 11, which changed the way I see football."
Social media:
Facebook: eitan.azaria
Twitter: Eitan_Azaria
Website: www.eitanazaria.com