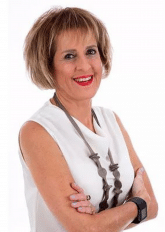 Dr. Raya Yoeli R.I.P
After Dr. Raya Yoeli became acquainted with the Narrative Approach, she developed the 'For a change' method, as a model for defining Professional Identity and Change Leadership. She is the author of Own Your Story.
Formerly, Raya was a lecturer and researcher at the Hebrew University of Jerusalem in the areas of Vision and Leadership Development, and headed the Training Program for School Principals at the David Yellin College of Education. Today she is a lecturer and instructor in various leadership development programs, she's a member of the staff at the Mandel School for Educational Leadership, as well as a consultant at the Civil Service Cadets Program in Israel. Raya holds a doctoral degree from the Hebrew university of Jerusalem.
For many years she has been running a successful clinic—providing advice to managers, entrepreneurs, and professionals, on leading change processes, forming their professional identity and building an organizational vision founded on their personal vision.
Raya's calling is to instill in people the notion that they can live lives full of meaning, happiness and the belief that everything is possible.
Raya is lovingly raising her four children together with her partner Zvika. She practices yoga every day and learns something new from someone every single day.