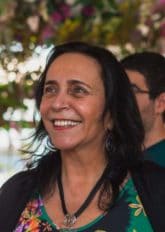 Dr. Orna Markus
Dr. Orna Markus Ben-Zvi was born in Tel-Aviv. She has years of experience working in education: as a teacher, educator, social education officer and as a senior-citizens in-school project manager. She was a teaching instructor for seven years at the Israeli ministry of education, as a history and national gender instructor. Dr. Ben-Zvi holds a Ph.D. in Jewish and Gender studies from Bar-Ilan University. For years she volunteered to help victims of sexual violence through various associations.
For over 20 years, Orna has developed the contents of this book and passed them on in workshops to seniors, adolescents, and teenage women, and even worked them into programs for education staff working with gender and education. Participants described the programs as self-empowering, and said they also encouraged them to follow their dreams.
In 2020 Orna published her first book, "Flying High Through the Course of Life – The Challenge: Thinking Your Way to Self-Realization."
Orna also has an online blog about leadership and self-actualization.
She is currently married, a mother of three, and grandmother of nine – and may she have many more.