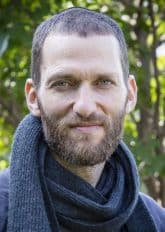 Doron Sheffer
Doron Sheffer (1972) was born in Israel and has been active in the world of basketball since he was sixteen.
Over the years, he has played central roles on teams such as the University of Connecticut, Maccabi Tel Aviv Hapoel Jerusalem, Hapoel Galil Elyon and Israel's national team, attaining extraordinary achievements.
In 2008 he helped establish "Value Sports" and "Sports with Courtesy"—empowerment programs for imparting virtues and values among coaches and players.
In 2012, together with his wife, Talia, they founded Hyuli— a natural health center.
In 2013, he published his autobiography, "Anani."
Today, Doron utilizes sports in general, and basketball in particular, as an educational, therapeutic, and empowering tool to provide children and adults with essential skills for winning at the game of life. Doron gives lectures and workshops to varied audiences in Israel and around the globe, during which he relates his unique and inspiring life story.
Doron lives in Moshav Amirim in the Galilee region of northern Israel. He is married to Talia and has five children.